Name__________________________________________Date___________________________
Reference Skills
Volume 3, Number 30, May 4, 1998
www.rhlschool.com
Vocabulary
Use a dictionary or other reference source to help you choose the correct answer.
1. It is very difficult to get an obstinate person to _________.
a. take a bath
b. change his mind
c. watch television
d. express an opinion

2. The incus is _________.
a. a bone
b. a popular song from 1954
c. a South American Indian tribe
d. a puzzle that can't be solved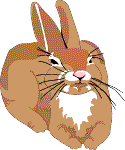 3. A warren is _________.
a. a home for rabbits
b. a paper that allows the police to arrest someone
c. a small war that ends almost immediately
d. a notice to be careful
4. An onerous law would _________.
a. protect the property rights of citizens
b. be hard to understand
c. help the needy
d. not be popular

5. A hyrax is _________.
a. a deadly disease
b. an African mammal
c. a kind of clothesline
d. a bird that feeds on dust mites
1_________2_________3_________4_________5_________
Copyright 1998 RHL